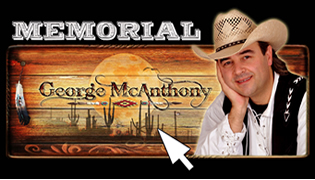 We are deeply grieved to inform you of the early death of George McAnthony, happened on the 8th of July 2011 in Terracina, Latium's Region (Italy).
"Eyes are vitals for the spirit of each of these men. Moreover, they are the natural window of their soul."
This statement has ever since reflected the thinking and actions of George McAnthony's, but unfortunately those days are over now. George has taken the big step into the spirits' world. He was not only a south tyrolian citizen but also a citizen of the world. He is survived by his beloved Luciana with her three children, his mother, his brother, his nephews and a countless multitude of friends.
We are confident that George would have left on his website so that in the future all his friends and fans could continue to share and discover his
music, his videos and all the good things he has done in his lifetime. For more information the email address is always active and will be managed by
people who were very closed to George. Many thanks to all who are, were and always will be near to him!
I'm walking with angels at my side
they will be around when I call their name
knowing that there is no space and no time,
so what can trouble my peace of mind
angels guard me from the day I was born
till I'm gone, so long, so long.
(George McAnthony)
16.05.2011 - Pictures from Reggio Emilia, Varano de Melegari (PR), Sestriere and Bourgneuf
07.04.2011 - Record deal with Bogner Records >>
06.04.2011 - Review on the magazine Country Eagle (Germany)
01.04.2011 - Review on B&NL Country Online(Netherlands - Belgium), Country Magazine(Netherlands - Belgium), WHEEL (Germany), Country Music News (Germany), Country.de(Germany) and Countrymusik.Net (Germany)
16.01.2011 - George gives a 50 minute interview on Radio Hope Fm (Great Britain)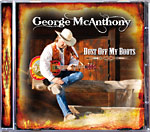 14. CD - 2010
"Dust Off My Boots"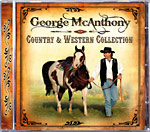 15. CD - 2011
"Country & Western Collection"
PRESENTATION:
George McAnthony, internationally acclaimed country singer and songwriter from Italy, was very well appreciated by both media and audience alike for
many years. In his career he had released 15 CDs containing mostly selfpenned material. George McAnthony wrote and sang in English.
George McAnthony was also known as "The Country One Man Band", because he performed in a very unique and original way, playing seven acoustic instruments altogether at the same time, live, without any playback and support of other musicians.
HIGHLIGHTS: winner of 3 international Music Awards as "Best European Country Artist, Vocalist & Country Song of the Year", duet with John Denver, new album "Dust Off My Boots" recorded in Nashville USA with famous musicians such as Brent Mason, Paul Franklin and Bryan Sutton. ... continue >>
BIOGRAPHY:
George McAnthony was born on the 6th of April 1966 in South Tyrol, northern Italy. At the early age of 9 he showed a remarkable interest in all thing related to music and started learning trumpet. At 14 he joined the band of his hometown. After completing secondary school George decided to go for a job as a woodworker. At the same time he developed a strong interest in the redistribution of wealth and care for the poor. Shortly after his father Anton had died, the first concrete ideas about how he could be an active agent in the social network grew to maturity, thus enabling him to realize the true social values that are his parent's heritage ... continue >>
ONE MAN BAND:
George McAnthony sings and plays 12string acoustic guitar, dobro, mandolin or electric guitar. With his feet he handles some percussion instruments like bass drum, snare, tambourine and hi-hat. And there is even the harmonica and the kazoo. The bass strings of the guitars are amplified in a particular way and played to create a sound similar to a bass guitar. Listening to George McAnthony, the "Country One Man Band", is like listening to a whole band, although the artist does not use any playback or electronic help ... continue >>