CHILDHOOD AND YOUTH
George McAnthony was born on the 6th of April 1966 in South Tyrol, northern
Italy and has died in consequence of an heart attack on the 8th of July 2011 in
Terracina, Latium's Region (Italy).
At the early age of 9 he shows a remarkable interest in all thing related to music
and starts learning trumpet. At 14 he joins the traditional music band of his
hometown. After completing secondary school George decides to go for a job as a
woodworker/carprenter. At the same time he develops a strong interest in the
redistribution of wealth and care for the poor. Shortly after his father Anton has
died, the first concrete ideas about how he could be an active agent in the social
network grew to maturity, thus enabling him to realize the true social values that
are his parent's heritage.
ETHIOPIA
After a short period of studies in London, George decides to move to Ethiopia as a
development aid volunteer. For two years he instructed the youth in woodworking
and directed a major reforestation project. The Ethiopian experience becomes a
strong influence in George's life. There he also starts learning to play the guitar
and some other instruments that today are the backbone of his "One Man Band".
LET'S GET MUSICAL
Back from Africa, George quits his job as woodworker and decides to pursue a
career as a country musician. In 1988 he wins a contest for young musical talent
organized by the Italian TV and radio broadcaster RAI.
The award gives him the opportunity for some gigs both at home and abroad. His
first album "GREEN IS PEACE" recorded in 1989 is very much appreciated by the
media and audience. After two years of successful touring, George's One Man
Band becomes "George McAnthony", an artist name chosen as a tribute to his
father Anton. In fact, "Mc" is an Irish prefix to a name meaning "son of".
In 1990 a second album "TOGETHER" follows.
NATIVE AMERICANS - A REAL LIFE EXPERIENCE
In January 1992, after some benefit performances in Albania, George McAnthony
travels to the USA, more precisely to South Dakota to experience life on an Indian
reservation. A very inspiring period for the Italian musician. The third album
"COUNTRY WAY OF LIFE", recorded at the Hilltop Studios in Nashville-Tennessee
in 1992, is heavily influenced by this adventure.
JOHN DENVER
At the same time George McAnthony initiates a close collaboration with countrylegend
John Denver (who sadly died in an plane-crash in 1997). They meet in New
York City and performe together on a big concert in the sold-out Palaresia-
Coliseum in Bolzano, Italy.
George's fourth musical album "LIVE ON THE ROAD", as the name suggests, a live
documentation of the One Man Band performing genre classics, sees the light in
1994.
AWARDS AND THE AMERICAN JOURNEY
In 1996 he produces his fifth album "LIKE A COUNTRY BOY"; Comstock Records
USA from Arizona releases two songs on international Country-Samplers.
Both songs are charted, helping George McAnthony in May 1998 to be awarded as
"Best European Vocalist of the Year", by the European Country Music Association
ECMA. In the same year he celebrates his 10th anniversary with the sixth album
"WEEKEND COWBOY", a strong and pure country album. It contains eight selfpenned
songs and several classics George grew up with.
In December 1998, following an invitation by Comstock Records, George
McAnthony makes a trip to the Southwest of the States doing some radio shows
and shoots for the video "Free Country Spirit" with sets in California, Arizona and
Nevada.
In January 2000 the seventh album "22 GREATEST HITS (1988-'97)", including the
best songs from the first five albums, has released.
In March 2000 George McAnthony recordes 12 new original compositions for his
eighth album "THE VISION" at the "Hilltop Studios" in Nashville Tennessee. Several
well known American studio musicians contributed to the recording. The track
"Mississippi River Dance", issues even on the British country music sampler
"Country Hot Disc", reaches several European country charts. In 2001 George
McAnthony again awards as "Best European Country Artist" and the outtake
honours "Song of the Year".
MORE RELEASES
Between the recording sessions George McAnthony tours frequently most in Italy,
Germany, Austria, France and Switzerland.
In 2002 the ninth album "WILD HORSE RUNNING" has released. It has entirely
recorded at George's "Heartland Studios"; for the first time he takes care of the
recording and mixing himself.
In November 2003 George McAnthony does an unplugged special in the
"Language Center of Ireland" in front of an international audience.
During this trip to Ireland George has inspired to write some new songs for his
tenth album "GREAT SPIRIT". The album features 10 new compositions and 3
genre classics. 2005 is the time for a new "Best Of". The eleventh album includes
tracks from the period 1997-2005. In 2006 George McAnthony releases his
twelfth CD "TRAIL OF LIFE" including 15 new songs and a remake of the title track
for the American TV-Series "Walker Texas Ranger".
RECORDING IN THE NETHERLANDS & AWARD
In occasion of the 20th Anniversary as a country singer-songwriter, in 2008 George McAnthony produced his 13th album "Bridge To El Dorado" in the Telstar Studios in Holland. The CD has been given airtime on the international radio network by "Comstock Records USA", and arrives second at the European Country Music Awards 2009 in the Category "Best European Album of the Year".
Most of George McAnthony's songs are self-penned. Catchy and atmospheric melodies develop around strong lyrics about peace between nations and in our hearts, about the simple life and its values, love and respect for all creatures and a trusting "relationship" to a common Celestial Father who shows us the way. The music carries the message and is a sort of soul-medicine at the same time.
CHARITY AD VOLUNTARY SERVICE
Despite all the touring all over Europe, George McAnthony has never forgotten his strong roots as a development aid volunteer.
He still tries to help by means of tribute concerts and other charity activities e.g. for Africa, the CARITAS, Amnesty International, UNICEF, the research on Aids and cancer or against the Balkan War.
He regularly returns to Ethiopia to supervise the development of the projects he once launched himself or directed, e.g. the construction of wells, job training, assistance to women and children or the allocation of micro-loans for the disadvantaged.
NEW ALBUM IN NASHVILLE
In April 2010 George McAnthony records the 14th album in Nashville USA together with famous musicians such as Brent Masin, Paul Franklin and Bryan Sutton.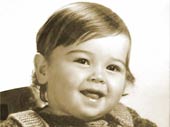 little George - 1967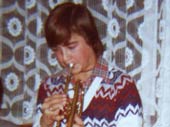 learning trumpet - 1978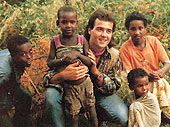 Ethiopia - 1985-87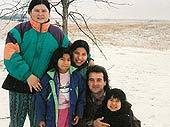 Red Indian reservation 1992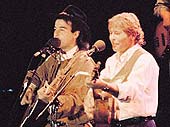 concert with John Denver 1992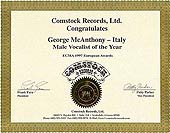 ECMA - Award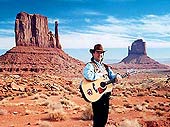 trip to Arizona - 1998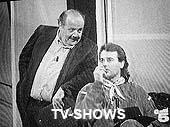 TV Shows
live - on the road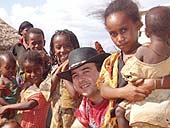 Ethiopia